Five High-Level Trends at CES
Photo credit: Bloomberg
The madness that is CES (the International Consumer Electronics Show) made its annual pilgrimage to Las Vegas this week. As is the case every year, there's no shortage of hype about the latest tchotchkes that will change our lives.
Or so it would seem.
Many products and even companies won't make significant traction—at least in the near term. Remember the 2012 hubbub over 4K televisions? They are among a host of other products (re: flops) that didn't exactly morph into must-have items despite major PR.
I won't pretend that my crystal ball is more accurate than yours, but CES does serve as interesting window of what's possible—if not probable—in the future.
In this three-part series, I'll cover the following:
High-level trends
3D design and printing
Wrap up and predictions
Let's start with the most important rends
IoT
The promises of smart homes and the Internet of Things have been with us for quite a while not. Gartner predicts that 5.5 million new things will connect every day in the new year. Still, it's no understatement to say that the hype over IoT has thus far exceeded the reality. Generally speaking, dumb appliances have not exhibited a great track record at incorporating smart features. (This article on the Samsung refrigerator illustrates the point nicely.)
Plenty of vendors showed off their latest wares with promises of smarter smart homes. Of course, tying all of these disparate devices together is no simple task. To this end, startups such as Helium want to build the connective tissue of the Internet of Things.
Cars, Cars, and More Cars
You've probably heard of little companies such Google (er, Alphabet now) and Uber. They have designs on fundamentally changing the driving experience as we know it. That doesn't mean, though, that traditional auto companies are standing still and waiting for their eventual disruption. GM, Toyota, Chevy, VW, Ford, and BMW are all planning for the automobile (r)evolution. Among the big car-related announcements at CES was NVidia's 'Supercomputer' for Self-Driving Cars.
Photo credit: The Verge
Finally and ironically, many asked whether Uber could help alleviate the traffic that CES invariably wreaks.
More Mature Heath Trackers and Wearables
Even though the initial incarnations of Google Glass and Apple Watch have not taken the world by storm, the future of wearables appears to be bright and even dizzying. New ways to record and upload information boggle the mind. As Kwame Opam wrote for The Verge:
In an age when everything is being uploaded to YouTube and Facebook, it's only natural that a pair of DJ headphones should have a camera built in to capture that great set. Here at CES 2016, Altec Lansing just announced its DVR DJ-style headphones, a pair of cans that has a 1080p action camera right inside.
Not to be outdone, Under Armor announced partnerships and products aimed at becoming a wearable player. Fitbit finally made a color touchscreen smartwatch called the Blaze.
Virtual Reality
Long billed as the next big thing, virtual reality (VR) has started to make inroads over the past few years. Buoyed by Facebook's $2-billion-dollar acquisition of Oculus Rift 18 months ago, many vendors are jumping into the fray. Case in point: HTC launched Vive Pre.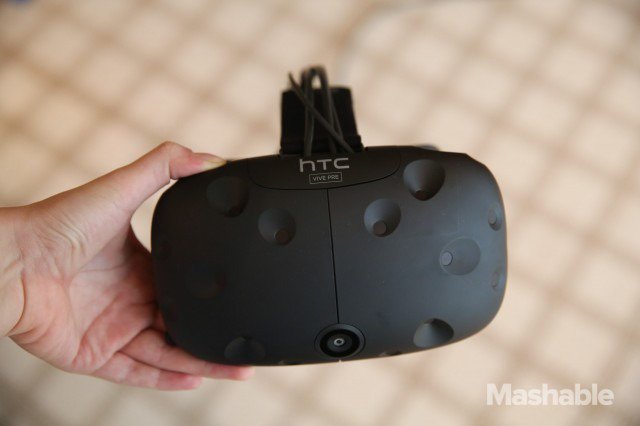 Photo credit: Mashable
Drones!
While by no means mature and even entirely legal to fly in certain circumstances, the market and application for drones is starting to shake out. Vendors introduced more than 100 new models at the show. (For more on this, click here.)
Lastly, it's more than a little ironic that the five biggest tech companies again passed on attending, something I pointed out in 2012. Amazon, Apple, Facebook, Google, and Microsoft all opted not to set up shop.
Feedback
What say you?
---
In the second part of this series, I will cover 3D design and printing.